Prolong Battery Life

and

Achieve
Maximum Runtime

A battery's performance is only as good as its charger. When paired correctly, a quality battery charger will prolong battery life and provide maximum run time*. Deciding which charger to buy for your application can be a challenging decision. There are many variables to consider, such as:
Vehicle type i.e., industrial vs golf car
Power Source
Battery Type (Lead-Acid – Flooded, AGM, Gel or Lithium-Ion)
Battery Size (Voltage & Amperage)
Connectors and Accessories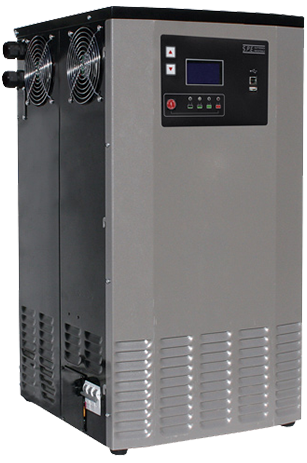 GREEN Series
Industrial Chargers
The GREEN Series are high-frequency, fully automatic industrial battery chargers. Available in either single or three-phase power supplies, are programmable for lead-acid or lithium-ion batteries and have high energy efficiency. Ideal for forklifts, pallet jacks, sweeper-scrubbers, Go-Karts, and more.
ChargePlus
Off-Board Charger
The ChargePlus is a universal, high-frequency, portable lead-acid or lithium-ion battery charger perfect for golf cars, pallet jacks, scissor lifts, floor care equipment, and more. The standard ChargePlus is adjustable from 12 to 48 volts and the ChargePlus72V between 60 and 72 volts.
Delta-Q
Chargers
Our Delta-Q line-up of high-frequency on- and offboard replacement chargers for use with either lead-acid or lithium batteries have custom-matched charging algorithms to help extend battery life. The Delta-Q's feature easy system integrations with CAN bus communication.